6:23 PM
So, a GM called me a a rapist today o__o ...
All I did was quote a law from the US state that I live in (where rape is defined as something only a man can do)
... and I got an infraction and a possible forum ban.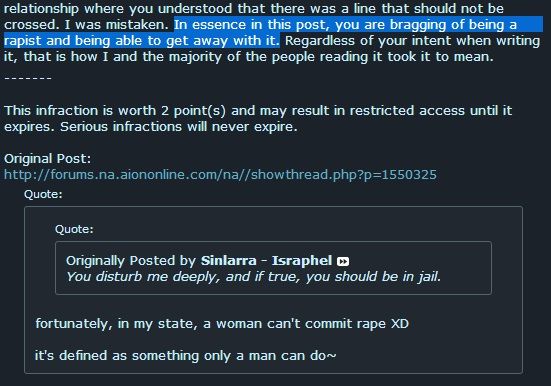 Like, for real. If u want to see what caused this drama, read it [here].

cake | Rating:

0.0

/

0

♥ ♥ ♥
This is a world that is quite filled with cake
Nevertheless it is also quite fake
Here we can spread our wings here we can fly
We PvP yet we dont truly die
It is a realm that's forever at war
There'll always be cake and we'll always want MORE


search cake site

Homepage is the legion's main news and
updates.
User News is a page where any legion
member can post anything they would like
at all.
Game Guide List shows how to level up
the fastest, get gear the fastest, etc ♥

cake ♥ calendar
---
For aion 2X exp, rift buff status,
150% AP days, and other thingies,
click: ♥ Aion Events Calendar3>

current ~ stats
---
Total online: 1
Guests: 1
Users: 0